NORTHERN RI – Treasures from the earth have always fascinated humankind.
In the Bible story in the book of Matthew, three Magi came from the east following a star to the Christ child. Tradition holds that Melchior, king of Persia, gave the gift of gold, denoting kingly status of the infant.
Centuries past the time of the Nativity story, somewhere in the wooded Durfee Hill area of Foster in the 1730s, and again in the 1890s, a small amount of gold was said to have been mined. The shafts were filled in long ago, and the specific location of the mine is a mystery. And the "gold," might have been pyrite, also known as fool's gold – bright and sparkly but not as valuable.
But many other minerals and rocks of interest are known and found throughout northern Rhode Island.
Bowenite, the semi-precocious state mineral, "can be recognized by its light yellow shade," and the state rock, cumberlandite is, "only found in large concentrations within Rhode Island and … composed of a high level of iron it is somewhat magnetic," reports goldnuggests.com.
A 1927 report in American Mineralogist of Mineral Localities of Rhode Island by Lloyd Fisher and Charles Doll at Brown University, lists the following municipalities and the minerals found in them including:
Centredale: Quartz crystals in green schist
Glocester: Magnetite in pegmatite Epidote, molybdenite, pyrite, pyrrhotite, ilmenite in pegmatite
Johnston: Chalcocite, epidote, fluorite, garnet and malachite
Burrillville: Amethystine quartz, and kaolin, Epidote, and tourmaline
Amethyst and "a lot of others," are found in Burrillville and North Smithfield says Louis Fazzina, owner of Apple Valley Minerals, a store in Smithfield.
And currently, there's an avalanche of demand for rocks and minerals.
"Five years ago, crystals were not a big deal. Now, powered by the lucrative combination of social media-friendly aesthetics, cosmic spirituality and the apparently unstoppable wellness juggernaut, they have gone from a niche oddity associated with patchouli and crushed velvet, to a global consumer phenomenon," reported the Guardian out of London in 2019.
Fazzina's cozy shop, which he has owned for eight years, features display cases of specimens, and the variety of color, texture and shape dazzle the eye. The appearance of the specimens attracts attention. Special properties attributed to the rocks and minerals also appeal to some of Fazzina's clientele, he says.
This past June, Bloomberg reported on the exploding market for pieces to display, to use therapeutically, or both.
"If you believe the hype, some crystals are said to offer benefits perfectly in tune with the Covid-era anxiety: Ocean-blue azurite can assist in clairvoyance and intuition; sodalite obelisks allegedly encourage calm and rational thought; statuesque tourmaline pillars promote self-confidence; and polished, swirling agate is recommended by fans for rebalancing and cleansing," on article noted.
A basis for these attributes is, "Light is energy. Light is vibration. The different frequencies of light are responsible for color. Gemstone crystals are frozen light," said Vasant Lad, founder of the Ayurvedic Institute, in a 2017 speech as reported by TheHerbalAcademy.com.
"Amethyst is tridoshic, meaning that it is suitable for all three doshas," Lad said.
According to Lad, it is helpful for safety in travel. He recommends putting a small amethyst in your pocket to assist in trouble-free travel.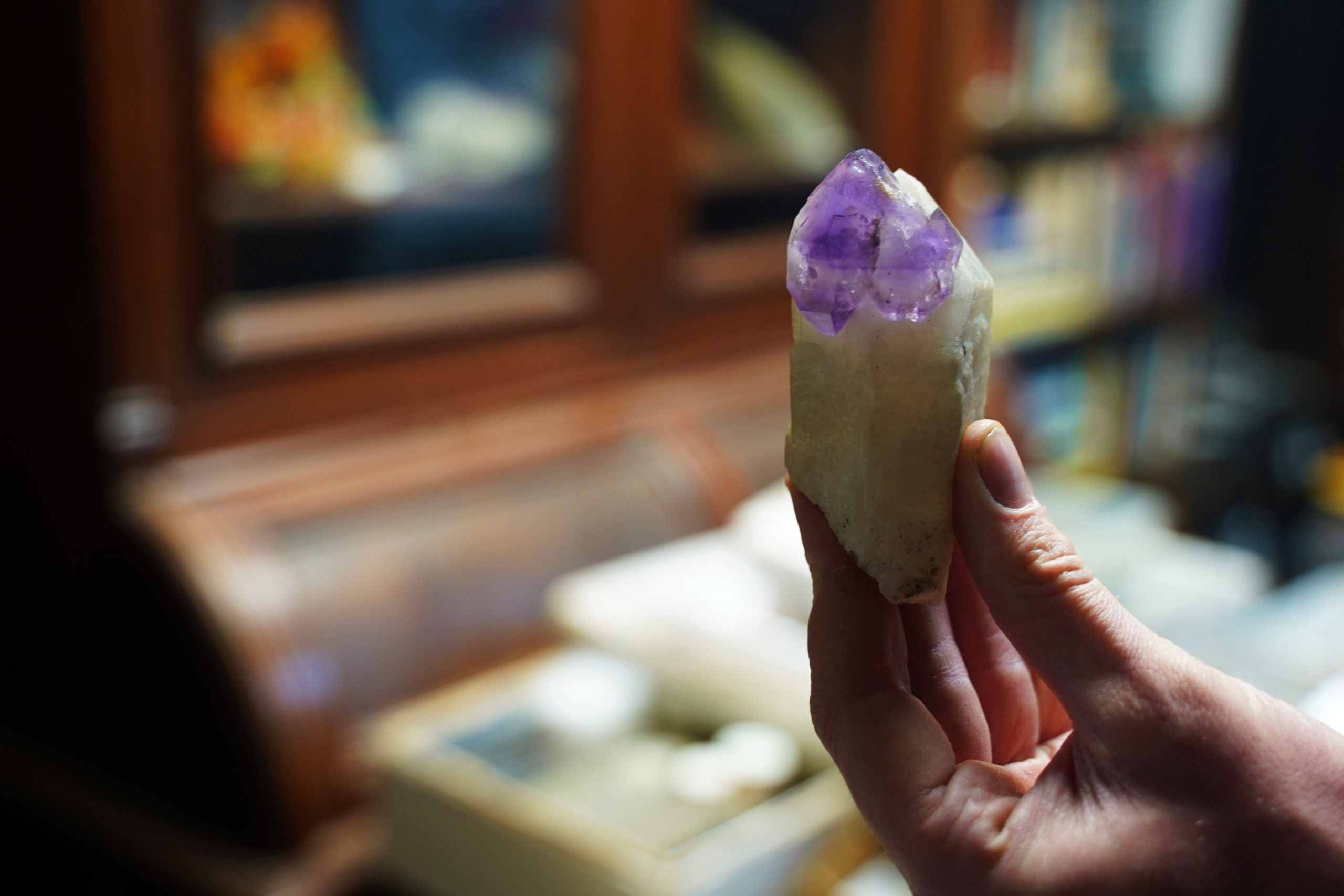 Locally, specimens of, "probably 10 to 100 types," are found in northern RI, says Fazzina, who has field collected amethyst and others in Burrillville.
Amethyst here is light lavender, and, "not super deep purple," he says.
The deeper purple amethyst is, "more sought after and more valuable," said Fazzina, who has gives presentations on such topics.
Amethyst deposits are alluvial, which means "from glacial activity," he explained. The mineral is found, "in the middle of the woods," in Burrillville – at a non-disclosed location.
"The amethyst is found in loose dirt," rather than in a mine, says Fazzina, adding that amethyst lies anywhere from one foot, to 10 to 15 feet, in the ground.
A good way for curious newcomers to get involved in, "rock hounding," is by getting acquainted with experts such as Fazzina, who is a mine of knowledge and enthusiasm.
The best way to start on the hobby or follow one's passion is to join a rock hounding club, says Rachel Cesana of North Smithfield.
Cesana serves as a board member of the Rhode Island Mineral Hunters club, which has approximately 120 members.
Unfortunately for rock hounds, "a lot of places in New England are closed,"  however, "sometimes quarries will allow [a group] for a fee, or for free."
But for the individual rock hound, finding somewhere to hunt is difficult, she says.
The northeast, she notes, is excellent for rock hounding. Hunters of rocks and minerals have flocked to Herkimer diamond mines in Herkimer County, NY, digging for treasures for a fee.
Herkimer diamonds are quartz crystals of diamond-like shape and, "are beautiful and powerful high vibration crystals that boost clairvoyant and clairaudient abilities," writes Liz Oakes at Healing Crystals for You.com.
But Hekimer diamonds are quartz crystals, not diamonds, explains Oakes.
"Most quartz crystals grow, over the course of millions of years attached to a matrix, attached to the surrounding rock or stone. So in those formations only one end of the quartz crystal grows to its point. With Herkimer Diamonds forming inside pockets, freed from the surrounding matrix stone, they grow points on both ends," according to AmericanGeode.com
Vendors at the Rhode Island Mineral Hunters' annual show, held in the cavernous cafeteria at CCRI's Knight campus in Warwick, offer a wide array of crystals and other rocks and minerals for sale.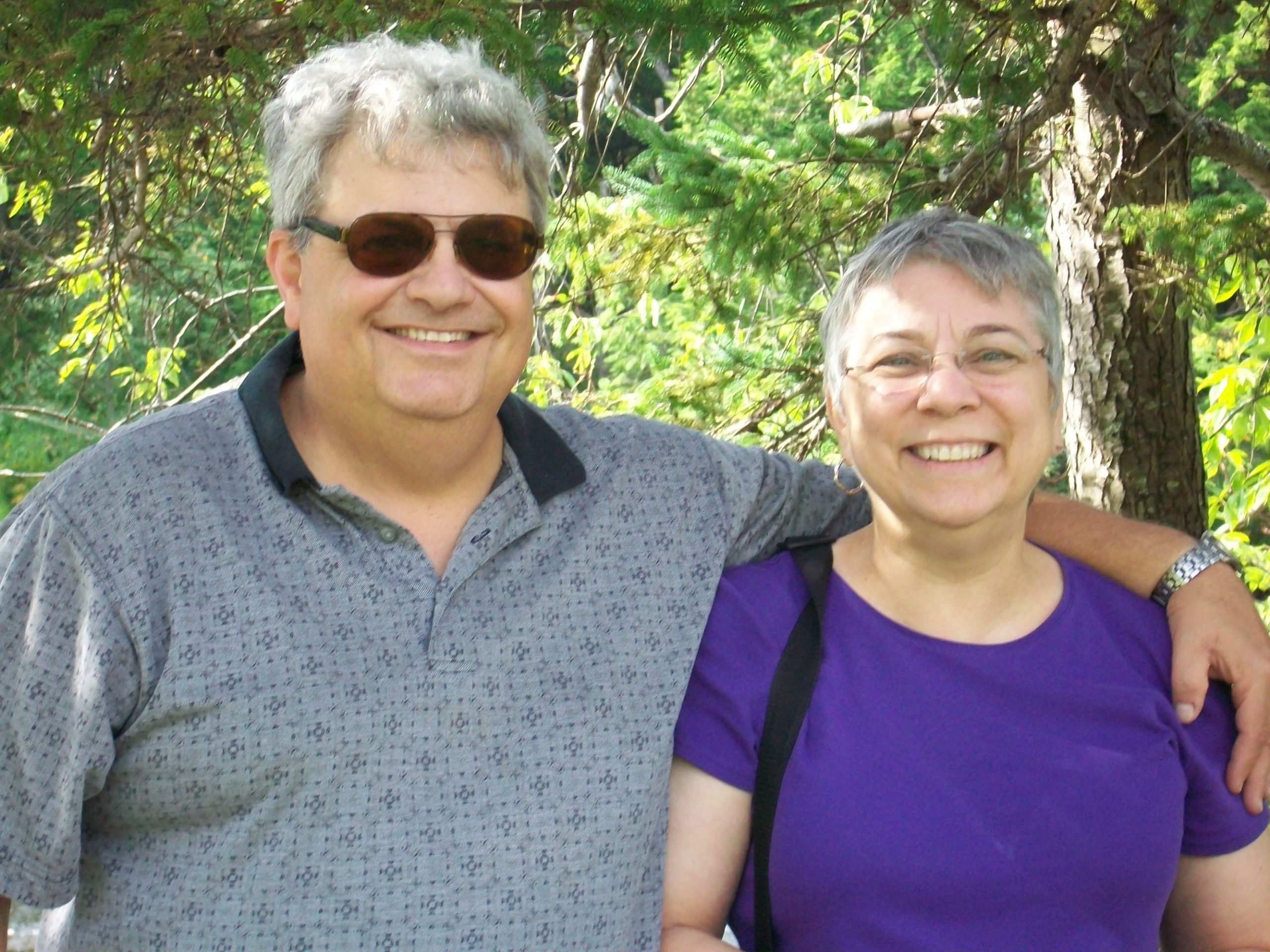 Of course, this year the show, which has attracted crowds of the curious as well as the hardcore collectors since the 1980s, was canceled. And the Rhode Island Mineral Hunters club does not, "have the capacity to do a show online."
Cesana seems to delight in the opportunity to share the joy of collecting with others, especially new enthusiasts, and she likes giving youngsters specimens to start their own collections.
"We do a lot. We have a large collection, sharing with people if we have excess, giving stuff away, especially to kids with their parents," she said.
The board member attends meetings of Rhode Island Mineral Hunters online and says the group hopes club activities will return to normal in 2021.
Before the state-mandated shut-down, Rhode Island Mineral Hunters met once a month. Club events normally include talks by experts and adventurers. Members trade and share specimens and guide newcomers in everything from how to start collecting, getting tools ready, and what to wear when collecting.
At Apple Valley Minerals in Smithfield, which was established in the 1960s, Fassina displays a good variety of rocks and minerals and even fossils. Some of collection comes from estates, other contents from his own rock hounding and more from fellow enthusiasts and collectors.
Many people are interested in the metaphysical and healing properties of rocks and minerals, but Fassina says he's mainly interested in the geologic aspects.
Minerals, like people, animals, and plants, are, "alive," according to ancient lore, but minerals grow at an imperceptibly slow rate over eons, and eventually die off, as when steel becomes, "exhausted," and stone structures deteriorate over time.
In a sense, minerals, "grow," – but not like living beings, says Fassina.
"Growth occurred millions of years ago, and often occurs only over a couple of days or hours – super hot in the earth. For crystals to occur, geologic conditions have to be right: heat and the pressure of the earth shifting and changing," he says.
"Once a mine is mined it is gone for our lifetime," Fassina concluded.
This year, most shows he would attend were canceled, but fortunately, the business from customers who purchase specimens was not.
Shoppers are invited to visit the shop by appointment only, and business, he says, is good.