NORTH SMITHFIELD – Rhode Island is in the grip of the state government ordered three-week "pause" that has imposed restrictions on church capacity at Christmas, and churches across the country are in critical condition, struggling under the weight of restrictions and shutdowns.
"Financial strain and dwindling attendance could shutter up to 20 percent of churches in the U.S.,"stated Dave Kinnamen of Barna Group, a research organization focused on faith and culture, as reported by onenewsnow.com.
What's not strained or dwindling is good will and creativity at Christmas, such as that at Slatersville Congregational Church-UCC in North Smithfield.
On the Town Common, the Greek Revival white church has a steeple that soars heavenward. Slatersville Congregational Church is home of the oldest continuously operating Sunday school in America.
But the church is not holding Sunday school classes, and is not holding services or any activity inside the beautifully decorated building, says Rev. Eileen Morris.
"It's been an interesting few months," she said. "We had hoped we could do something for Christmas."
But, she says, "we've watched the [COVID} numbers change," in the state of Rhode Island. "It's just a nightmare."
"We have been very careful and have been very intentional in not gathering out of concern for all our parishioners – and I'm very thankful," said the reverend.
Instead of holding traditional Christmas services, church members will meet online. On Christmas Eve, they'll, "tell the story of the Nativity,"said Morris. Each participant or family has a specific section to share in their own way, such as with a reading or acting out a part of the story of the birth of Jesus Christ.
The inside of the traditional church on the Common is beautifully decorated for the holiday, but otherwise it's quite different than in every other year.
"I offer worship to an empty church," Morris said. "There's no one here."
She says the church is, "very fortunate to have a professional filmmaker Christian de Rezendes recording for us."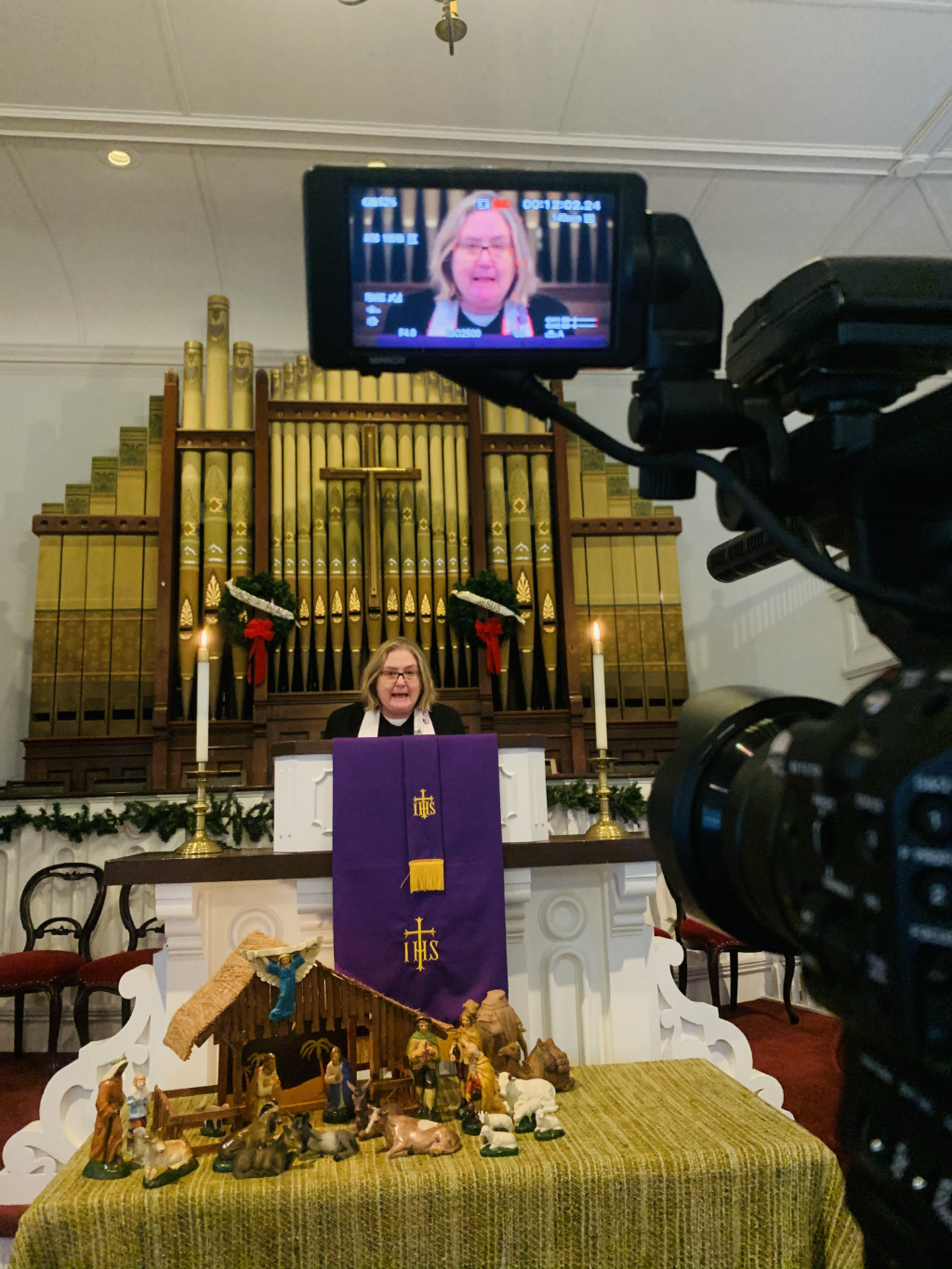 "You can binge watch 39 services," quips Morris, looking on the bright side.
The services are available online at slatersvillechurch.org.
Regarding the circumstances this year for the church, "We are truly a cruise ship without the water."
The lack of the myriad of in-person activities and events Slatersville Congregational Church usually holds, she notes, is, "a big loss for the community."
Cancelled in 2020 are breakfasts, lunches, dinners and vacation Bible school.
Last year, the free school, open to all denominations, brought in dozens of children age 3 to 12 from North Smithfield, Burrillville and Woonsocket.
Although the reverend and parishioner volunteers still lend a hand at the food bank that has space at the church, the annual in-person event to help the hungry was not held.
During the warm weather of the summer, the church held services outdoors, including marriages and baptisms.
But now business meetings, the women's book group and the weekly prayer group are all meet virtually, online, as does the church's dessert and coffee hour.
Nationwide, churches – and religious charities – are under duress, and at a time when unemployment and other effects of shutdowns are crippling Americans.
Christian charity The Salvation Army says, "millions of Americans are in need, and there is the daunting possibility of a 50 percent decrease in funds raised through the iconic Red Kettles due to the impacts of COVID-19."
In response, The Salvation Army is putting on a music special, featuring Robert Counts, Adam Doleac, Niko Moon, Mitchell Tenpenny and Rachel Wammack, on Wednesday, Dec. 16, partnered with Sony Music Nashville and Sinclair Broadcast Group, "to help rescue Christmas for millions of Americans in need…the Rock the Red Kettle special in an effort to uplift and encourage viewers to help rescue Christmas by supporting The Salvation Army's relief efforts at RescueChristmas.org"
The special will run on STIRR City – channel 1 – at 8 p.m. An encore will run on STIRR Music – channel 400 – on Thursday, Dec. 17 at 12 p.m.
The STIRR app is available on Roku TV, Fire TV, Apple TV as well as iOS and Android devices or at www.STIRR.com.
Here in Rhode Island, the charitable, and others, are watching in wait this Christmas season to see if further restrictions on churches are extended, whether for the holidays or beyond.
Whatever the outcome, Slatersville Congregational Church continues to focus on service, community and good cheer.