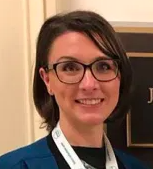 BURRILLVILLE – It's a coalition with representatives from virtually every facet of life in town, from the faith-based and business communities, to schools, police and local government.
And this week, the woman who has worked to grow the organization was recognized for her contributions.
Burrillville Prevention Action Coalition coordinator Monica Blanchette was celebrated Tuesday night as Community Star by the National Organization of State Offices of Rural Health. The awards recognize women, men and organizations who make a difference in the health of the communities they serve and Blanchette was one of six individuals honored this week, chosen out of hundreds on nominations.
Blanchette was nominated for the award by Margaret Gradie, director of Rhode Island's Office for Primary Care and Rural Health. Introducing Blanchette, Gradie spoke of the difficulties in creating a sense of community in a rural environment.
"It can seem that these small towns don't have needs and at times they're passed over for investment," Gradie said, noting that often, people who live in rural areas have to get their services elsewhere.
"As a town, Burrillville has a remarkable level of community engagement, as exemplified by the Burrillville Prevention Action Coalition," Gradie said.
First formed in 2013 as a collaboration between local police and school officials in reaction the opioid epidemic, BPAC brings together representatives from varying sectors in town with the common goal of addressing the factors that lead to substance abuse and addiction.
And while similar organizations focused on substance abuse prevention have seen shrinking membership amid the COVID-19 pandemic, BPAC has continued to grow, attracting dozens of locals to monthly meetings held via Zoom.
"I could have nominated the entire town or the entire coalition, but I chose Monica for a number of reasons," Gradie said. "I have particular regard for young women and men who choose to raise their families in rural areas when they have the skill and education to be successful elsewhere. When they do direct those talents back to the community, the result is quite remarkable."
The Community Star event was held virtually on Tuesday, Dec. 8 in place of the organization's normal annual celebration of those who have contributed to rural life. Many of those in attendance for the brief ceremony were from Burrillville, including Col. Stephen Lynch, outgoing Town Councilor John Pacheco, Councilor-elect Justin Batalon and Burrillville Police Lt. William Lacey.
"I have my little fan club here," Blanchette noted. "I think everyone on the coalition deserves to be here with me."
The coordinator pointed out that BPAC's recent meeting was attended by administration from all five Burrillville schools.
"I have so many community members on the coalition," she said.
But ultimately, Blanchette said, BPAC is driven by participation students.
"I can't do my job without the kids," she said.
A Burrillville resident, Blanchette said she's also motivated by her own family.
"I want to make sure that when my daughter grows up she's in a community that's safe, that's healthy and that's drug free," Blanchette said.
Other Community Stars recognized Tuesday were Gertrude O'Sullivan, director of communications and special programs for the Foundation for Community Health in Connecticut; Maureen Donovan, program manager for Athol Hospital in Massachusetts; Robin Winslow, CEO of Hometown Health Center in Maine; Keith Shute, a doctor at Androscoggin Valley Hospital in New Hampshire; and the Vermont Department of Health COVID-19 Health Operations Center.