NORTH SMITHFIELD – The event may have lacked the celebratory flair of the town's past inauguration ceremonies, but it was important – and effective – nonetheless.
North Smithfield's newly-elected town administrator, Town Council members and School Committee members were sworn in on Tuesday, Dec. 1, taking the Oath of Office with face masks on, and few guests in attendance.
Officials gave abbreviated speeches as the new leaders took their seats, pointing to the need for precaution amid a surge of the COVID-19 pandemic.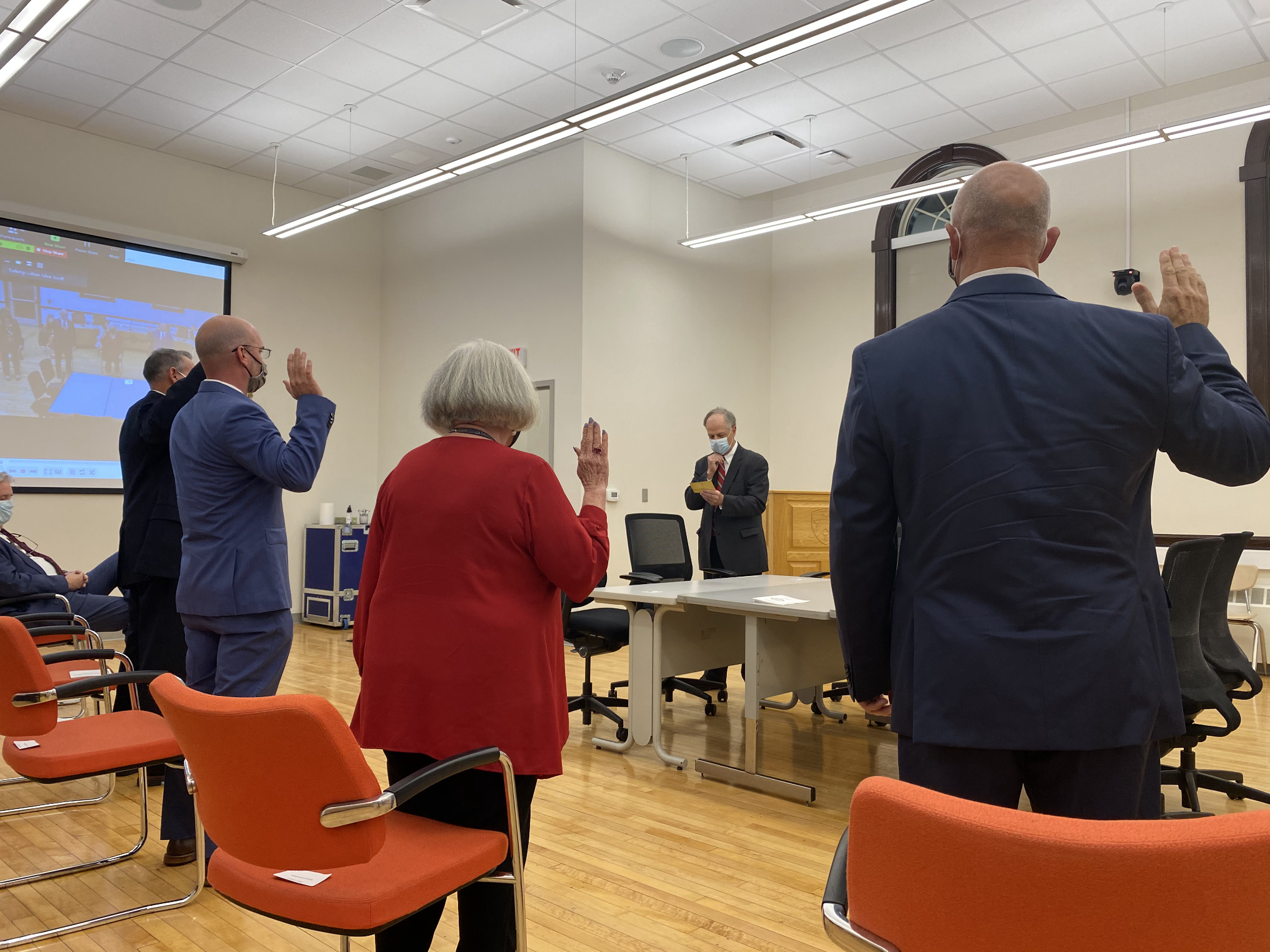 "The work is difficult," said former Town Administrator Gary Ezovski of elected office. "Fortunately there are people who want to do it."
"They volunteered to tackle our difficult work," he said of the new crop of town leaders. "They will face the responsibility of serving over 12,000 people, while responding to the requests of any single person. That is not easy."
The event brought an official end to Ezovski's four years in the town's top office, with the administrator opting not to seek a third term in 2020. Ezovski's final act was to swear in his replacement, Administrator Paul Zwolenski, who had kind words for his predecessor.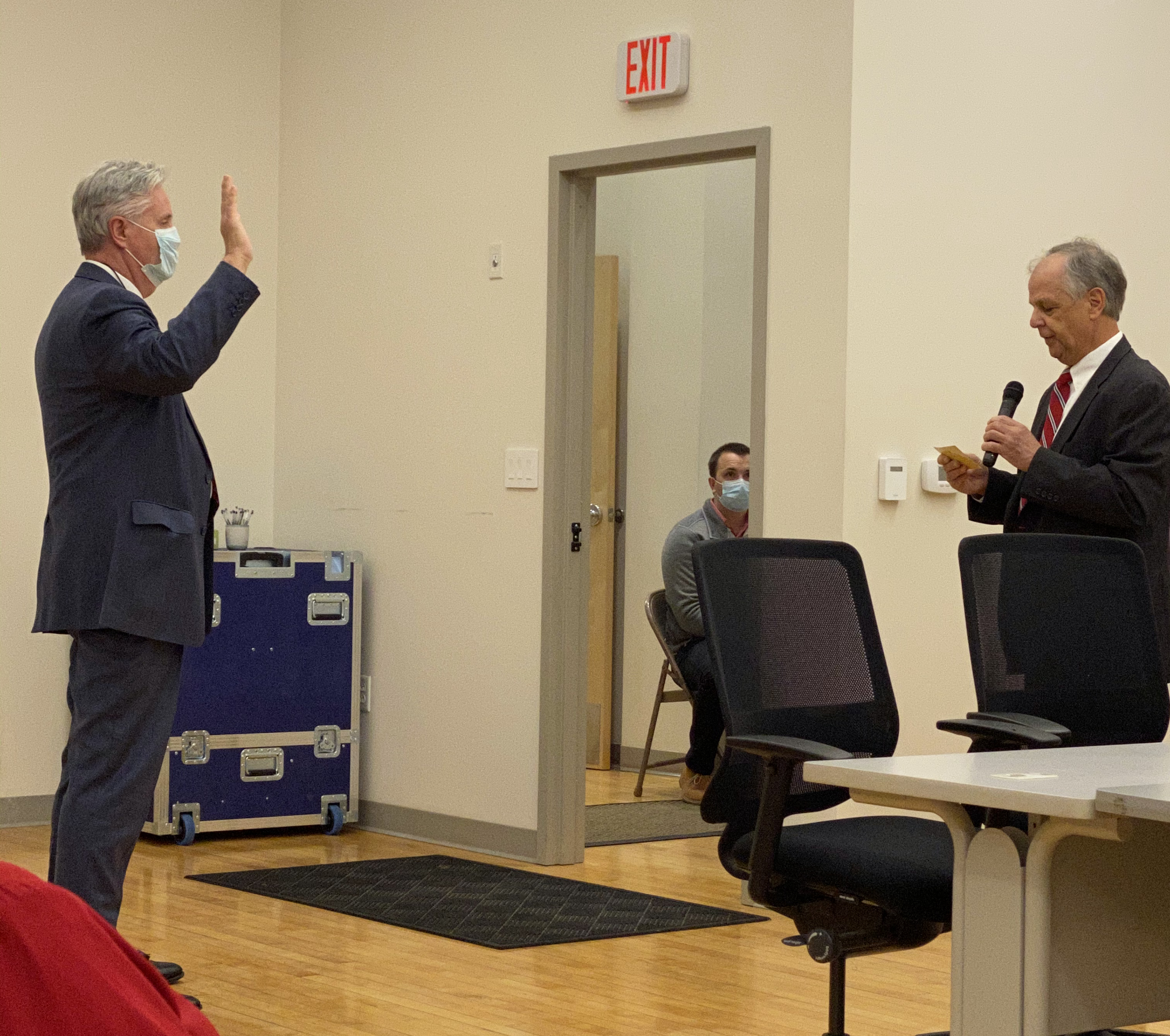 "Recognition is in order for Administrator Ezovski, and his efforts over the four years as he guided his administration through some turbulent times," said Zwolenski, after thanking friends and family for their support in his 2020 election win.
The new administrator will serve a four, rather than two-year term in the role thanks to a charter change approved by voters in 2018.
And although his administration begins at a time of unprecedented challenges, Zwolenski struck an optimistic tone.
"We have all experienced difficult times during this pandemic, but I believe the residents and the businesses of our town are resilient, and will persevere," Zwolenski said. "My commitment is to our town."
He pointed to a future that includes a vaccine, followed by celebrations of the town's 150th anniversary, and growth of both business and open space.
"Our work will include protecting our residents until we have eradicated COVID-19," Zwolenski said, adding, "There is a bright light at the end of the 2020 tunnel."
"We have tremendous opportunity to move our town forward."
Council members elected in November were also sworn in, nominating John Beauregard to serve as their president. Beauregard previously served in the role for two years before losing an election bid in 2018.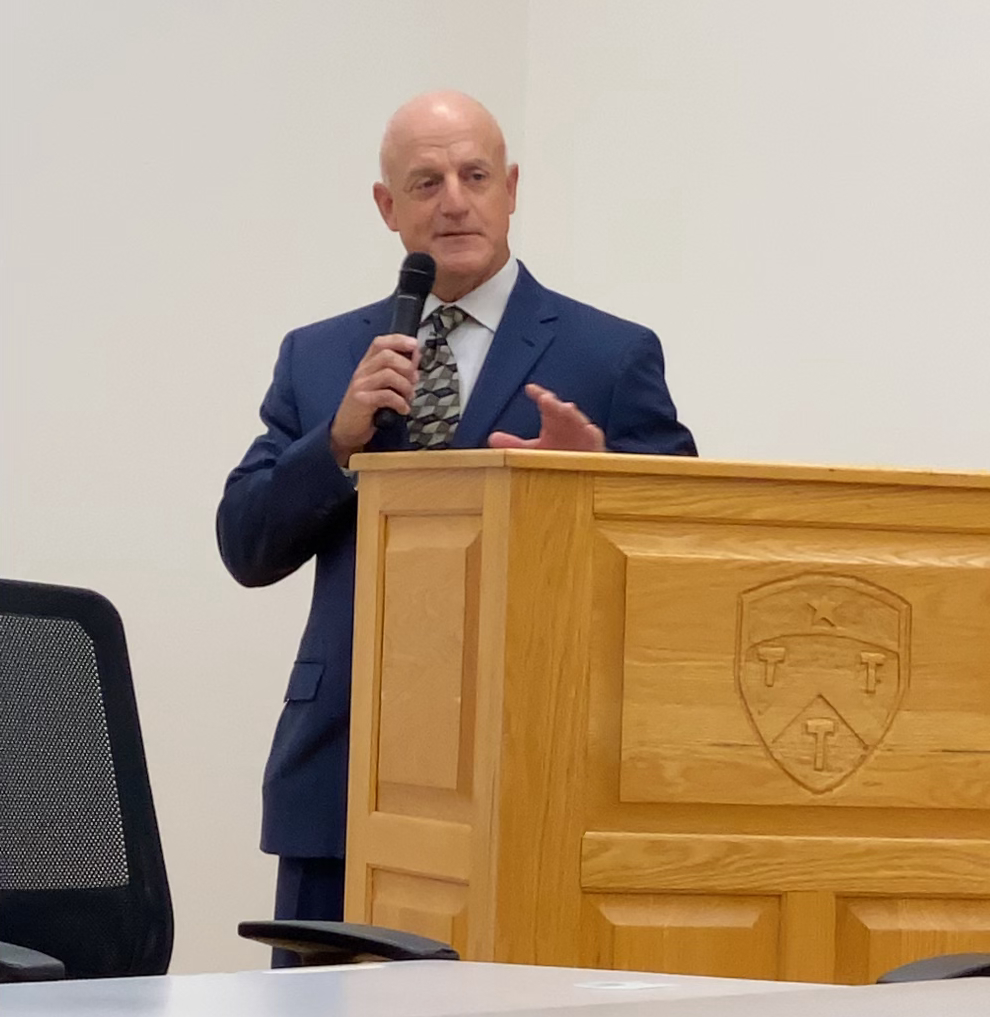 But the councilor saw a comeback in 2020, coming in second among ten candidates for the board, and on Tuesday, he was confirmed for the leadership role unanimously.
He pointed to the strong character and unique skills of his fellow board members, from Councilor Paul Vadenais's vast experience, to Councilor Claire O'Hara's giving nature.
"We elected a great group of people and I could not be more proud to be sitting with each and every one of you," Beauregard said.
As vice-chairperson, the board elected Councilor Kimberly Alves, who returned to the council this year after four years away from town service.
Council chambers were emptied and cleaned before Zwolenski swore in members of the School Committee.
In unanimous votes, the board elected James Lombardi and Jean Meo to continue serving as their chairperson and vice chairperson, respectively.
"Government by and for the people is not easy," said Ezovski in his parting words. "You have to want it. You have to make it. You have to care for it. Not when it's convenient. Not when other things aren't in the way. Not when the conditions are inviting. As we do, it will not perish."
"For almost 250 years, Americans have done it. Tonight, these citizens add their commitment to the best local government we can create. May God bless their effort, and the town of North Smithfield."