BURRILLVILLE – For the third consecutive year, dessert will be served on the Thanksgiving tables of homes throughout the region thanks to an effort by one Burrillville family to honor their late patriarch.
Mandy Marie Ellis, along with her two daughters, a niece and a nephew, will deliver 290, "Pies for Pépère," this year in memory of her late grandfather Francis Berthiaume.
For years, Berthiaume, a Burrillville resident, delivered holiday food to local families in need through his church, Our Lady of Good Help in Mapleville.
As he got older, and carrying the heavy bags of food donations to homes in need of a Thanksgiving meal became a challenge, Berthiaume began cooking at home. Each year, the well-known local, a volunteer for the Oakland Mapleville Fire District who worked for the Burrillville Department of Public Works for 27 years, would deliver plates of food to the homes of those he knew would be spending the holiday alone.
Berthiaume died in a car accident in 2018, and when the holidays rolled around that year, it was Ellis's then 8-year-old daughter Lyndsay who first worried who would feed local families in his absence.
"One of the last things he said to us was: just keep doing good for the people," Ellis told NRI NOW. "Everybody knew him. He was just a good guy."
That Thanksgiving, the family launched, "Pies for Pépère," baking and delivering 50 pies so that others would have a proper end to their holiday meal. From chocolate cream, to apple, pumpkin and blueberry, the pie-baking tradition was born in hopes to honor Berthiaume's longtime commitment to helping others.
"We do a mixture of everything," Ellis said.
In 2019, the family gave out 70 pies.
COVID-19 has, of course, changed how the holidays will look in 2020, and the local charity is no exception. This year, due to a requirement that foods must be frozen, the family has teamed up with Walmart to keep their tradition alive.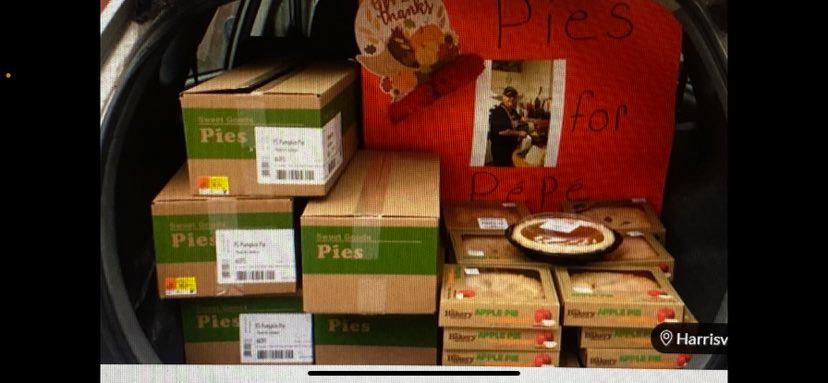 And over Thanksgiving week, they'll deliver 290 pies, with 80 going to the Mapleville church, and another 215 handed out through Help the Homeless of RI, an organization that provides meals for those in need throughout the state.
"With COVID, and loss of jobs in the area, now is the time we all need to band together to help our neighbors out," Ellis said.
She points out that just a few dollars – the cost of  a cup of coffee – puts dessert on the table of a family that otherwise might go without.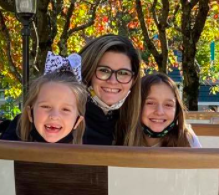 And the tradition is teaching her family the value of giving back.
"It's nice to do it," said Ellis's 7-year-old daughter Kayleigh.
"It starts this ripple effect in the community," Ellis said.
Next year, the family has plans to partner with a local market, Dinos in Glocester. The group will pick up and hand pack hundreds of pies from the store, once again to give back in Berthiaume's memory.
Ellis noted that the tradition brings the family closer together – and it seems to have staying power.
"We're already trying to think ahead of what we can do for Christmas, especially this year, when people really need it," she said. "We're grateful we can organize and give back in this way."
Anyone interested in helping out with Pies for Pépère can do so via GoFundMe or by contacting Ellis via Facebook.