NORTH SMITHFIELD – Citing language in the Town Charter that states that the Planning Board should study and prepare plans for projects involving town properties and public facilities, planners requested oversight of the initiative to revamp the former Halliwell Elementary School.
The board also initially planned to ask members of the Town Council not to take action on hiring a consultant for the property until newly-elected councilors were in place, but ultimately did not communicate on the issue.
"Obviously, it's a very important property to the town," said Planner Jeffrey Porter at a meeting last week. "I believe it's more of a Planning Board responsibility, simply as outlined in the Town Charter."
The town put out a request for proposals for an assessment of the property, with bids due back last week.
Porter called the progress was somewhat concerning.
"There hasn't been any formation of any committee," Porter said. "I just have some concerns about moving forward without having more goals put forward."
Porter noted that more than 40 residents showed up for a community meeting last March to discuss potential uses for the property.
"There was a lot of good momentum at that meeting in March and I'm afraid we're missing some of it," he said.
But Town Administrator Gary Ezovski questioned if the board should have full oversight on Halliwell, pointing out that on past initiatives, such as creating the town's water system or building schools, the group did not take the lead role.
"It certainly does not mean the Planning Board steps in to manage every large project that the town contemplates," Ezovski said of the charter language. "There are roles that you have, and I view them as quasi-judicial."
Ezovski, who opted not to seek a third term in 2020 and will soon be replaced by Town Administrator-elect Paul Zwolenski, pointed to the need to keep the process moving by hiring a consultant to assess the lot, as outlined in the recent RFP.
"I do value community input," said Ezovski. "I want that input, but I also want it to be guided by information that is prudent and qualified."
"The current council, the future council… that doesn't matter to me," he added.
There is much town officials must still ascertain about the land that held the beloved former school, which served town students for 62 years before it closed in 2019. Situated at the end of a long, winding drive off of Victory Highway surrounded by woods and wetlands, the California-style campus made up of buildings in varying states of deterioration.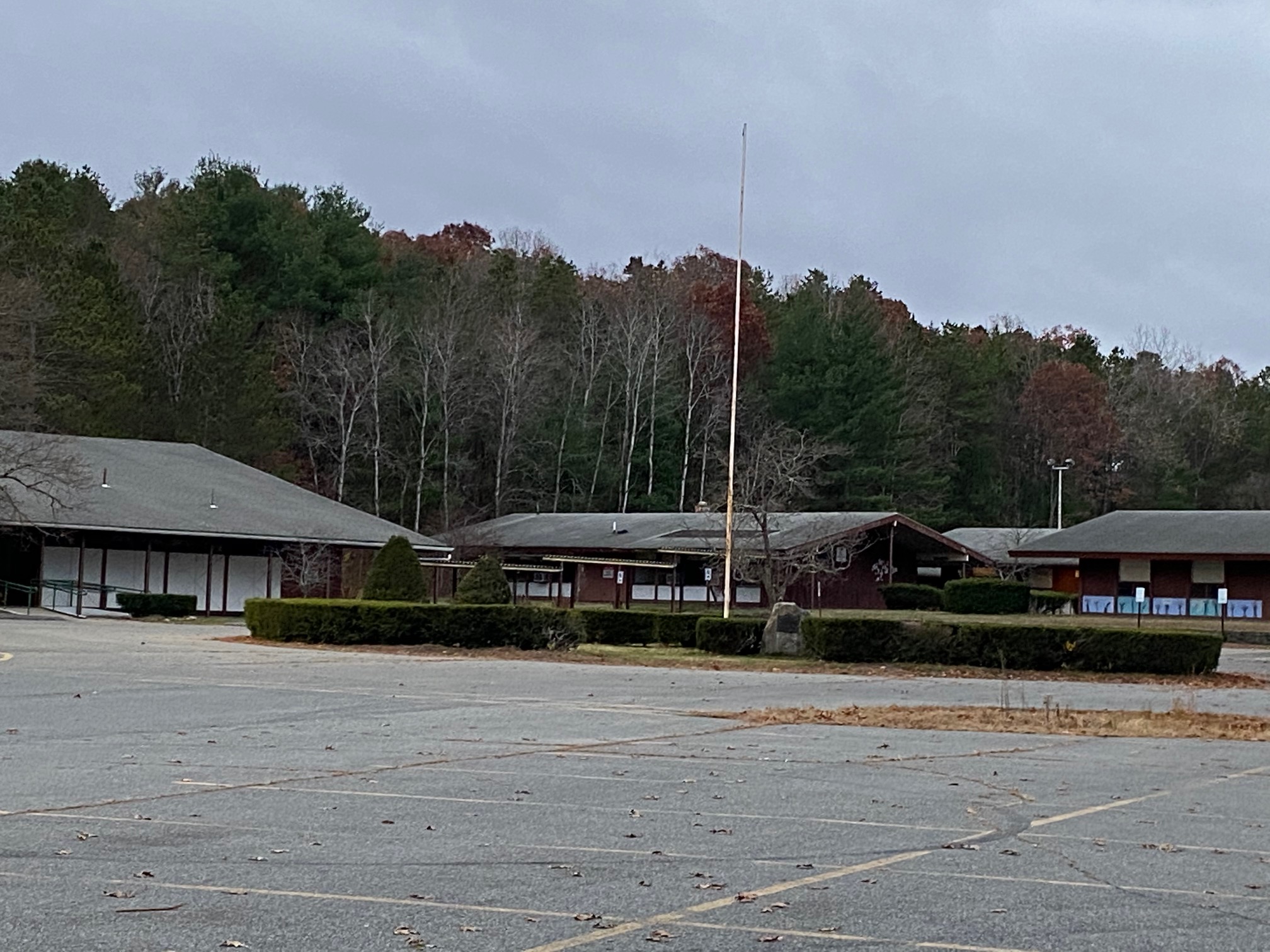 Some of those buildings on the 32-acre property could have a future as a type of community center. Others will have to be demolished.
The property was used as a polling place during the General Election last week, and at the public meeting in March, potential uses suggested for the land and buildings included a skate park; a senior center; hiking trails; a new police station; a community garden; a food bank; commercial offices; artist studios; a vocational school; a dog park; basketball courts; a tech center; a solar farm and more.
"Those building are rue with nasty chemicals and asbestos above the ceiling tiles," said Zwolenski, noting of the project, "We can't race into it because we don't know what we can do with the property yet."
While agreeing an independent assessment is in order, Planner Porter emphasized the need to adhere to the charter.
"I'm proposing oversight, first and foremost," he said. "There's a process to be followed and if it's not followed, it's doomed at the very onset. In North Smithfield we have done a terrible job of maintaining buildings. What I don't want to see is another building project fall into disrepair, and another process not followed."
Porter also disputed the idea that the Halliwell project could be compared to recent initiatives like the building of town schools, calling the large-scale effort, "another animal."
"There was a huge list of things that could come from this, all of which would have different impacts on the town as a whole," Porter said. "There's a lot of people on this call tonight who are deeply passionate and involved, and want to make sure that this goes the right way."
"We haven't had a community-based project that is this big. I just want to make sure that we're starting off on the right foot."
Of a consultant's report Porter added, "We need that as a starting point."
He was backed by his fellow planners.
"I agree with Jeff's interpretation of the charter and I agree with the need he calls for, for oversight for Halliwell," said Planner Megan Staples. "That would be only a positive thing for the project."
"I think it's definitely a worthwhile endeavor," said Planner David Punchak.
Porter was also backed by community members who attended the Thursday, Nov. 5 Zoom meeting, and described the board's meetings as a more comfortable forum.
"Planning Board meetings are more open and engaging," said Aleksandra Norton.
Resident Cynthia Roberts called for a, "radically democratic process."
"One of the most important aspects of any kind of thing like the Halliwell endeavor is to engage residents and to have this be a resident-led effort," she said.
Planning Board Chairman Gary Palardy said he agrees a consultant is needed to first, "establish practical limitations."
"No matter who's doing it, I think everyone's in agreement that this requires, and will only reach its full potential, if there is town-wide input," said Palardy, adding after the initial assessment, "I'm assuming at that point that consultant kind of steps out."
Ezovski noted that on similar efforts, the Town Council has taken the main role, establishing a committee with representatives from various town boards.
"I won't apologize for the way our Town Council is required to operate," said Ezovski. "There is an order to our government."
Zwolenski agreed that, in the past for major developments in town,  committees included representatives from boards including zoning and planning.
"This one, I want to see a lot more community involvement," said Zwolenski. "There's a lot more people that could get involved."
"This is going to be an interesting project," Zwolenski said.
Planners agreed unanimously to send a memo to the council requesting oversight.
Editor's note: This article has been edited to reflect the memo that was sent to the Town Council. A vote on the RFP was taken on Monday, Nov. 16. Read more here.