BURRILLVILLE – The annual fire protection budget for Pascoag Fire District was tabled this week after an auditor from firm Parmalee, Poirier and Associates announced that he had not completed the report, due prior to the meeting held Monday, Sept. 10.
The decision came, at least in part, as a reaction to resident's recent displeasure with members of the district's board of fire commissioners. Those in attendance voted 44-42 to put the department's fiscal plan on hold, pending delivery of the annual audit.
"Unfortunately we have not gotten the last pieces of documentation that we need," said Bernie Poirier, managing partner at the firm.
Troubles at the district following the January suspension of Tax Collector Laurie McCutcheon have led to heightened tensions at recent fire commission board meetings, with several residents questioning their administrative processes.
McCutcheon, a 17-year employee, has filed several complaints with both the state Ethics Commission and the Attorney General's office directed at members of the department, and while some have led to violations, others have been dismissed.
While the unusual budget action by residents this week left the district's financial plan temporarily uncertain, Chief Harold Carter said he's confident the issue will be resolved well in advance of the start of their fiscal year November 1.
"The budget will go through. They just want some transparency," said Carter of the voters. "I think once they get what they need, they'll be fine."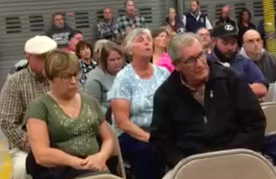 Carter noted that in speaking with residents, none took issue with the budget itself, a sound fiscal plan that will see no increase for taxpayers.
"It's a good budget. Financially, we are in good shape," said Carter.
The issue, he noted, was also not with the staff, but rather the board of commissioners.
"They know we do a good job," the chief said. "I'm not overly concerned."
Poirier said the district applied for and was granted a legal extension to the audit deadline with the state auditor general.
"The state is well aware that the numbers are coming," said Poirier.
Carter noted that the auditor has indicated the report will be completed and delivered in the near future, leaving plenty of time for residents to approve the new budget.
Town Councilor Raymond Trinque served as moderator at the annual meeting, and found himself unable to answer several questions poised by the more than 100 residents in attendance. Trinque noted that he does not serve on the district's board of commissioners, and that residents would find many of their answers there, not at the annual meeting.
"In an annual meeting, we have only what you see on your agenda. and we're unable to answer questions. It sounds like we're very evasive, but I don't have the answers here," he said. "They have the ability to get that information for you in a timely manner."
The suspended tax collector's husband, Gregg McCutcheon, was among those questioning Trinque.
"In the past year they haven't been doing well in following the bylaws that I've seen," said McCutcheon. "Other than not passing the budget, what other actions can we take to get this board of fire commissioners to start following their bylaws?"
"If it's not complete, how can we vote on it?" asked Madelyn Putnam regarding a budget vote prior to receiving the audit. "Don't you think we should have that?"
Trinque to directed all questions to the board.
"I'm here to run the meeting and I have the same information you have," said Trinque. "These questions, though legitimate, simply can't be answered in this meeting because the information isn't here. I can't give you information that I don't have."
Commissioners will have to advertise and schedule a special meeting to vote on the budget after the audit is complete.
The meeting also served as an election of officers.
Three candidates put their names in for a three-year-term on the board of fire commissioners, and newcomer James Richard beat out current Chairman David Carpenter with a vote of 57-50. Bruce Riley did not receive any votes.
David Shaw was nominated for a three-year term on the Board of Tax Assessors and Ray Frank for a one year term as moderator. Joe Houle will serve as clerk for the next year.
The meeting was filmed by resident Norman Desjarlais and can be viewed on his Facebook page here.

Sandy Seoane is the founder, publisher, and editor of Northern Rhode Island News On the Web.
A reporter for nearly a decade with experience in both print and online news, Seoane aims to bring a new source of information to the region. She began with the town of Burrillville and has since added coverage in North Smithfield, using her experience in conventional media to bring light to local issues.
A SUNY Albany graduate with much experience covering news in the Blackstone Valley, Seoane previously worked for The Valley Breeze and Woonsocket Patch.