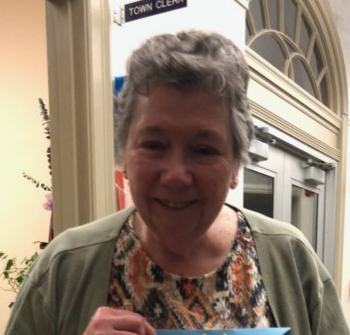 BURRILLVILLE – After more than 30 years at Jesse Smith Memorial Library, head of circulation Mary Skaba will retire this month, and town officials thanked her for her service, acknowledging her long and successful career.
Skaba began work at the Harrisville library in 1987 and in recent years has supervised a staff of seven, overseeing collections and cataloging.
According to a citation issued this week, Skaba was instrumental in bringing the Jesse M. Smith library into the Ocean State Library Consortium, coordinating the addition of the collection into Jesse Smith's online catalog.
She was also a critical member of the team that moved the library from the Carlton Brown Building to its current 24,000 square foot location at Stillwater Mill Center.
Skaba has been an active member of the Ocean State Library Circulation Heads and Database Maintenance groups, and was a statewide trainer when it transitioned into the Millennium Integrated Library System.
In 2018, she was named the Rhode Island Library Association's Outstanding Library Paraprofessional of the Year. The award recognizes a library staff member in a non-degreed support position who has made a significant contribution to the library work environment and/or libraries in Rhode Island.
Councilors honored Skaba with a proclamation at their meeting on Wednesday, Dec. 9.
"I just want to thank Mrs Skaba for 30 years of service to the town," said Councilor Jeremy Bailey. "I think it says something of her dedication."
Councilor Dennis Anderson noted that librarians are notoriously quiet, and he was surprised to learn of all she had accomplished.
"For 30 years, I think she deserves it," Anderson said.
Skaba's retirement reportedly takes effect at the end of the month.